News -
Latest
Written by Peter Martinez
January 08, 2011 08:26
A homeless man named Ted Williams is discovered by The Columbus Dispatch as having a voice made for the masses!
He was LIVE in the studio on ABC's "Good Morning America" with his 90-year-old mother.
Watch the full segment below.
DIRECT VIDEO LINK: http://ABCNews.com/GMA/video/golden-pipes-ted-williams-reconnects-mom-12562927
The Columbus Dispatch found a panhandler with a voice of God!
He's shown here reuniting with his 90-year-old mother after about 10 years.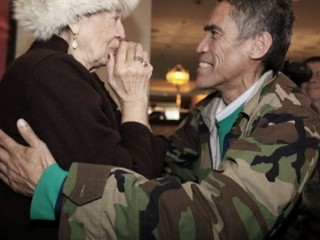 You can share this video on Facebook, LIKE it or leave your comments below.
Last Updated on January 08, 2011 08:37